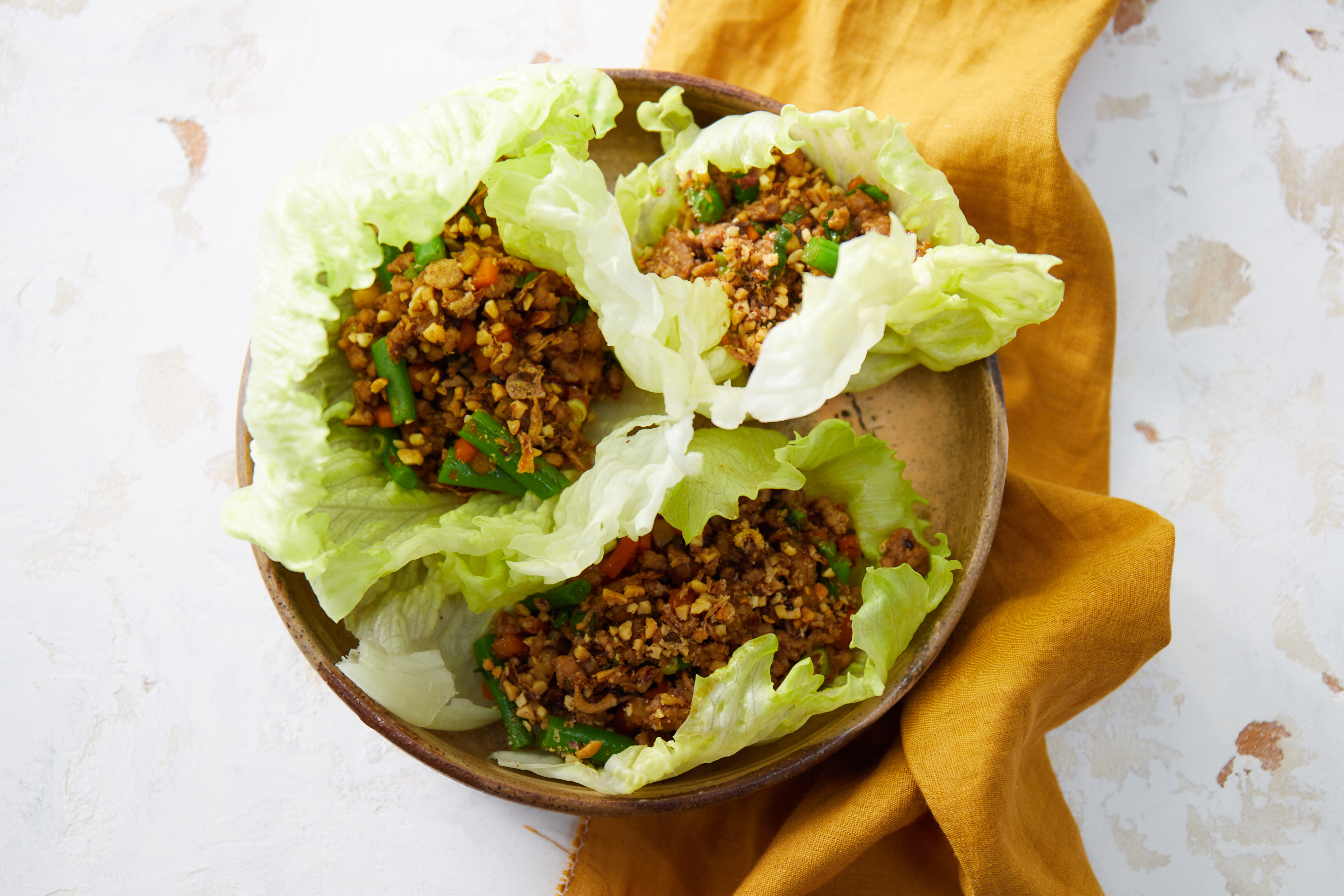 Pork mince
1 light soy sachet
1 hoisin sachet
1 Chinese cooking wine sachet
1 peanut & shallot mix sachet
1 water chestnut can
1 green beans bag
1 carrot
1 button mushroom bag
1 iceberg lettuce
1 ginger bag *
1 spring onion
This recipe is for 2 servings, please refer to printed recipe cards for 4 and 6 servings or just increase quantities.
Pantry staples: Cooking oil, white sugar
Allergens: Wheat, garlic, sesame, soy, onion, nuts (peanut)
Chef's note: San Choy Bow literally translates to "lettuce" "wrap". It is a very popular dish served in most Chinese restaurants in Australia. We have included some water chestnuts in this dish for a delicious crunch.
* Use half the ginger provided.
Given the success of our recipe cards, we have decided to change the style of videos to better complement them. Rather than Charlie cooking the entire recipes, he now focuses on the technical and traditional elements of the weekly cuisines. The videos are now shorter, sharper and more informative. Giving you kitchen hacks and skills to ignite your inner chef.
Method: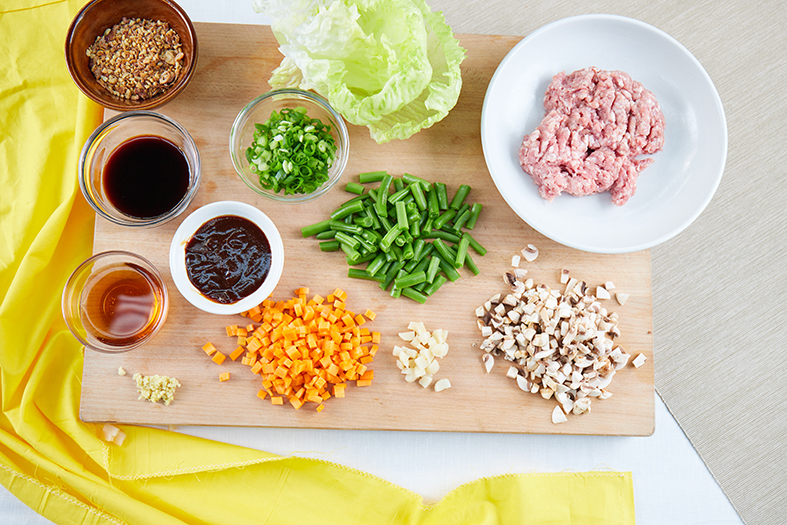 1. Prepare the ingredients
Wash the vegetables. Separate the lettuce leaves. Grate or finely chop the ginger. Cut the beans into 2cm pieces. Cut the mushrooms and carrots into small dice. Thinly slice the spring onions. Finely chop 1 tablespoon of water chestnuts per person.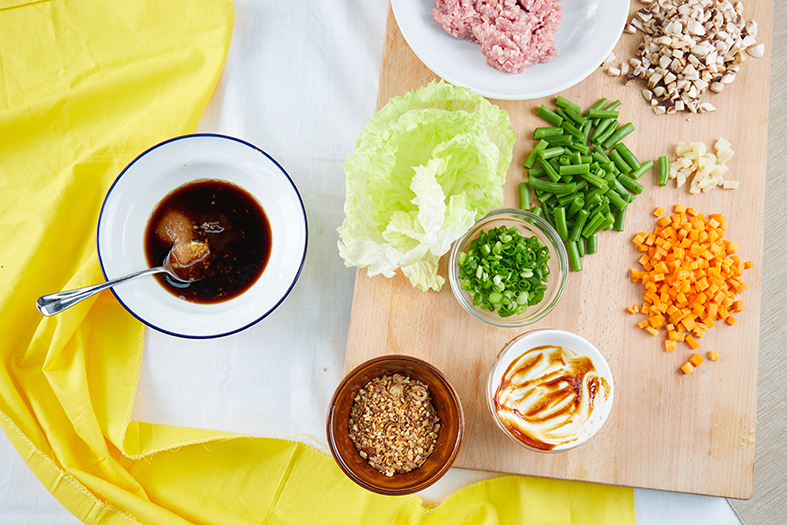 2. Make the sauce
Combine the ginger, soy sauce, hoisin, Chinese cooking wine and 2 teaspoons of sugar per person in a bowl. Stir well to dissolve the sugar.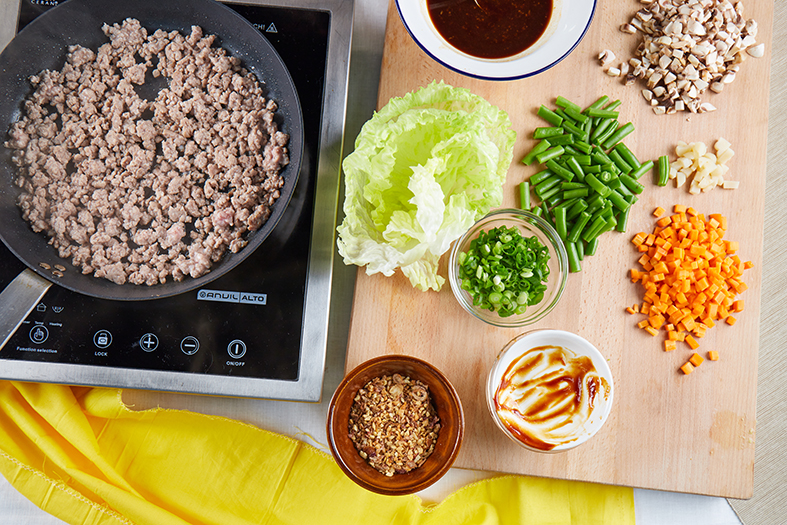 3. Cook the pork
Heat a splash of oil in a frying pan over medium heat. Add the mince, break up using a spoon and cook for 5 minutes or until the mince is browned.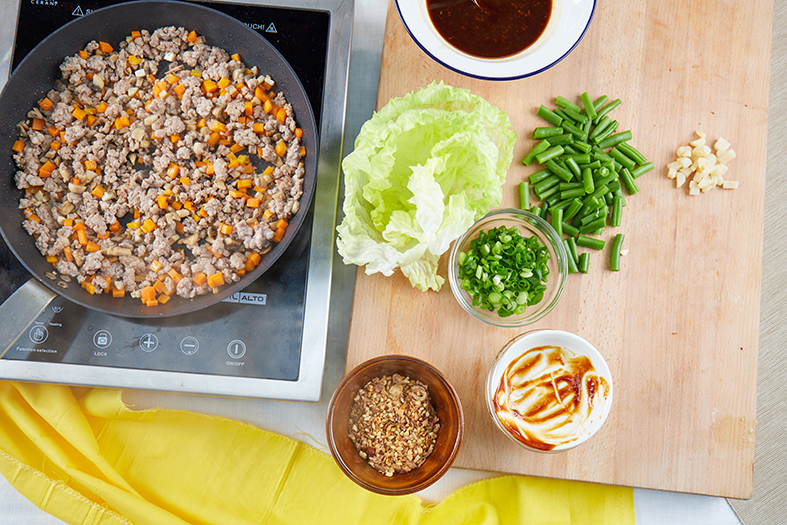 4. Add the mushrooms and carrots
Add the mushrooms and carrots and cook for 3 minutes. Add the sauce and cook for 2 minutes or until it slightly reduces.
5. Add the beans and sauce
Add the beans, water chestnuts and spring onions, toss to combine.
6. To serve
Place the lettuce cups on a serving plate. Spoon the pork mix into the cups. Sprinkle with the peanut & shallot mix.