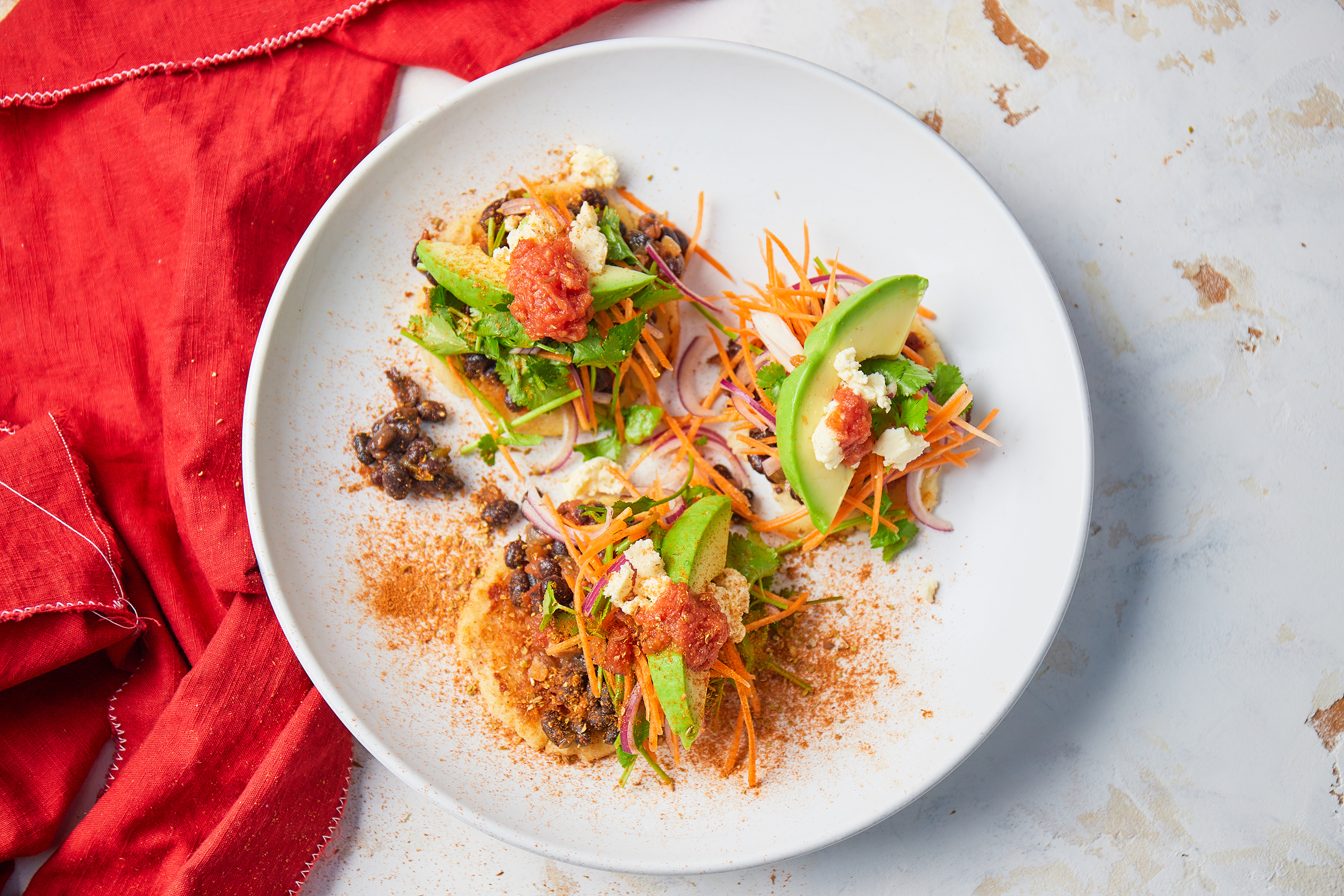 30 MIN
Masterclass
Vegetarian
1 ATLAS black beans pack
1 mozzarella piece
1 ATLAS tomato sugo pack
1 masa pck
1 ATLAS taco seasoning sachet
1 avocado
1 carrot
1 tomato
1 jalapeno
1 red onion
2 garlic cloves
1 coriander bunch
Pantry staples: Cooking oil, salt
Allergens: Onion, garlic, dairy
Chef's note: Arepas are found throughout the northern countries of South America. Typically Colombian arepas are thinner with cheese (like these ones) and Venezuelan arepas are thicker and can be stuffed, like a sandwich.
* Use half of the onion, avocado and cheese provided
* Coriander and garlic are to be split across various other dishes so please read each recipe carefully.
Method: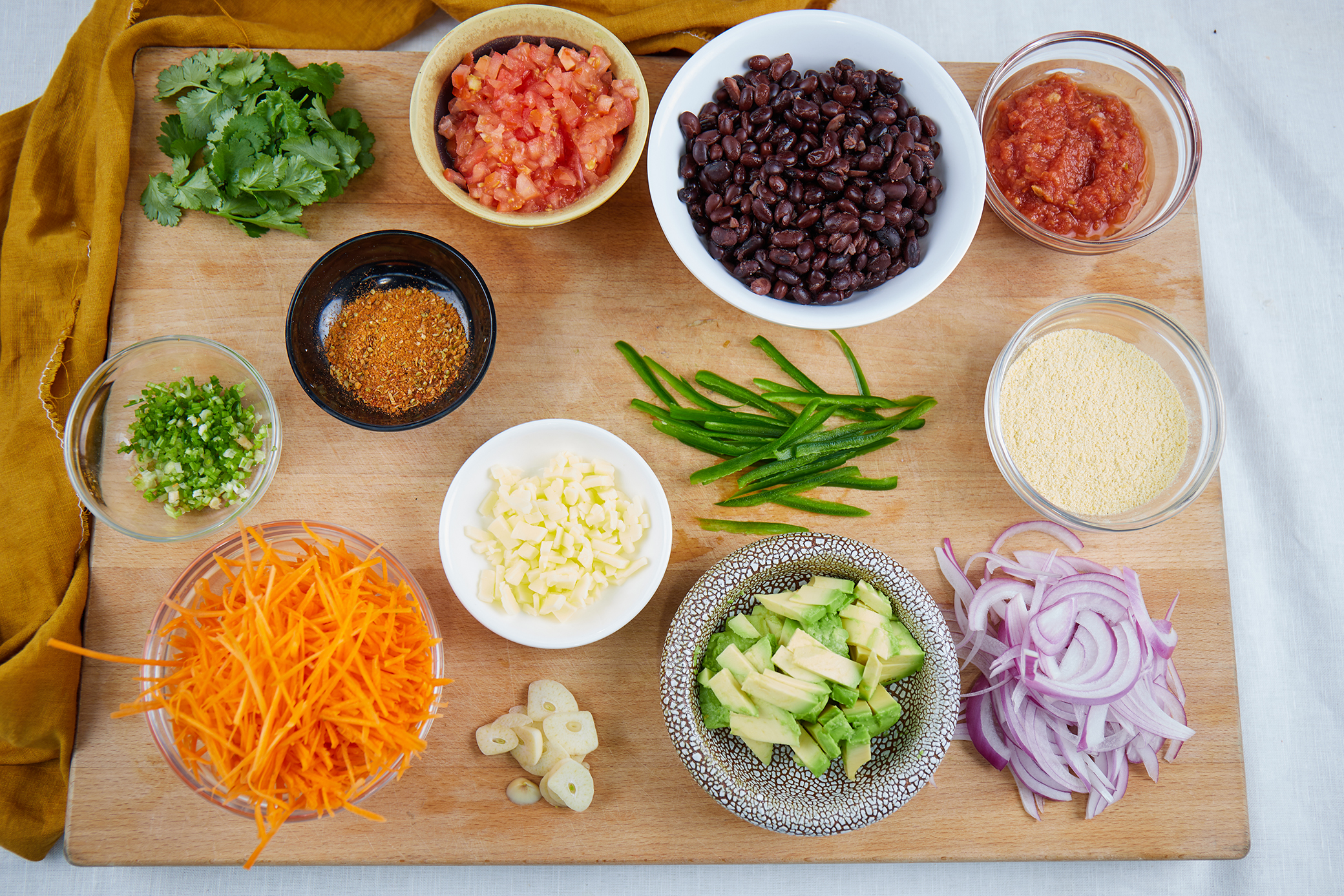 1. Prepare the ingredients
Wash the vegetables. Thinly slice the onion* and 1 garlic* clove per person. Dice the tomato. Finely chop some of the coriander* roots and stems. Pick the coriander leaves. Finely slice the avocado*. Grate the carrot. Halve the jalapeno, remove the centre and slice into matchstick pieces. Cut the mozzarella* into 5mm dice. Drain the black beans, do not rinse.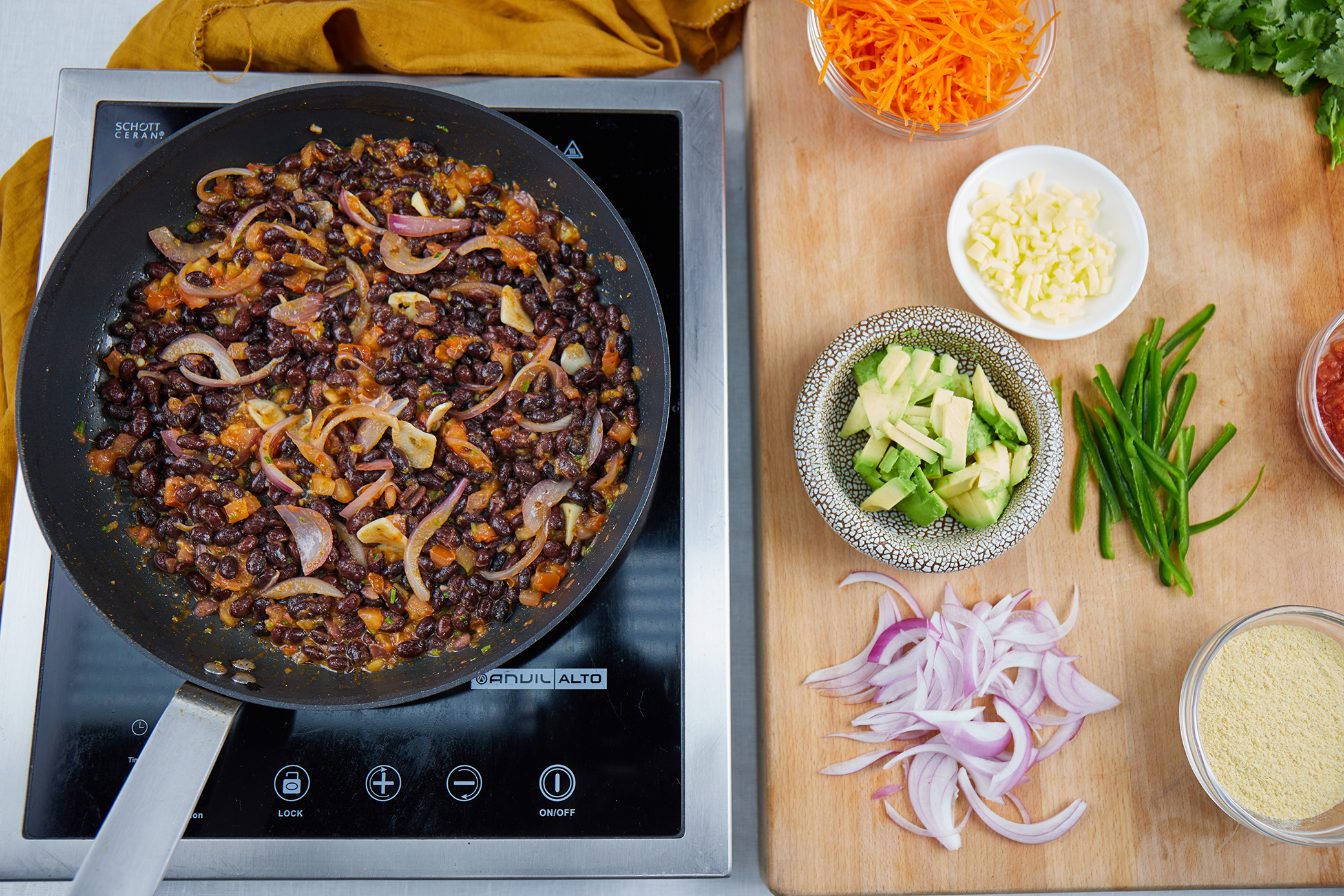 2. Cook the beans
Heat a splash of cooking oil in a frying pan over medium heat. Add the coriander root and stems, garlic and half the onion. Cook for 2 minutes or until the onion softens slightly. Add taco seasoning, tomato and black beans. Reduce heat and simmer for 5 minutes or until the tomato breaks down. Stir through a little of the salsa before serving.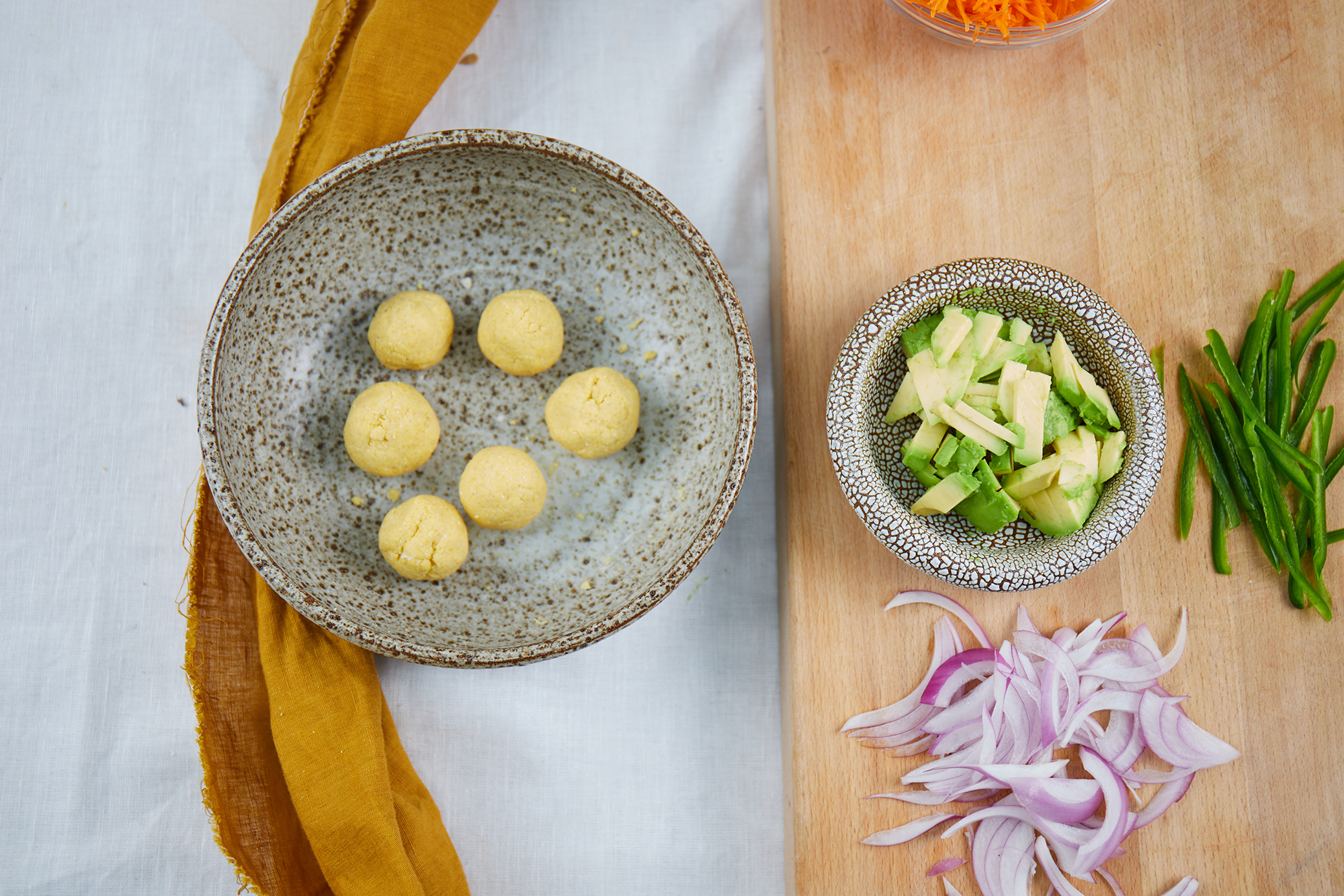 3. Make the carrot slaw
Meanwhile, combine the carrot, coriander leaves and jalapeno to taste.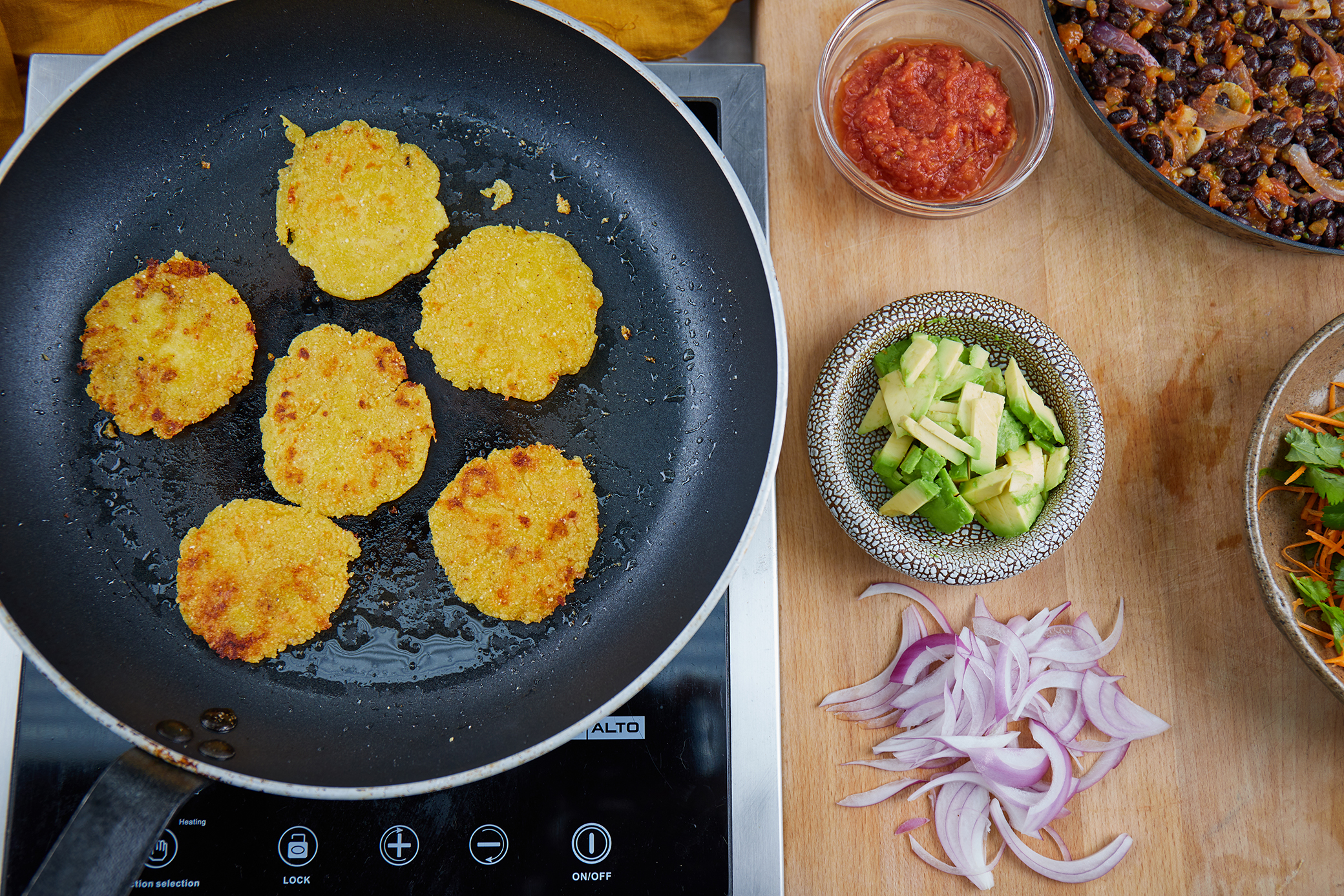 4. Make the arepas
Place the masa into a bowl with the mozzarella, a pinch of salt, a splash of oil and enough water to make a dough. Start with a tablespoon of water at a time until you get a dough consistency. Shape into 3 balls per person.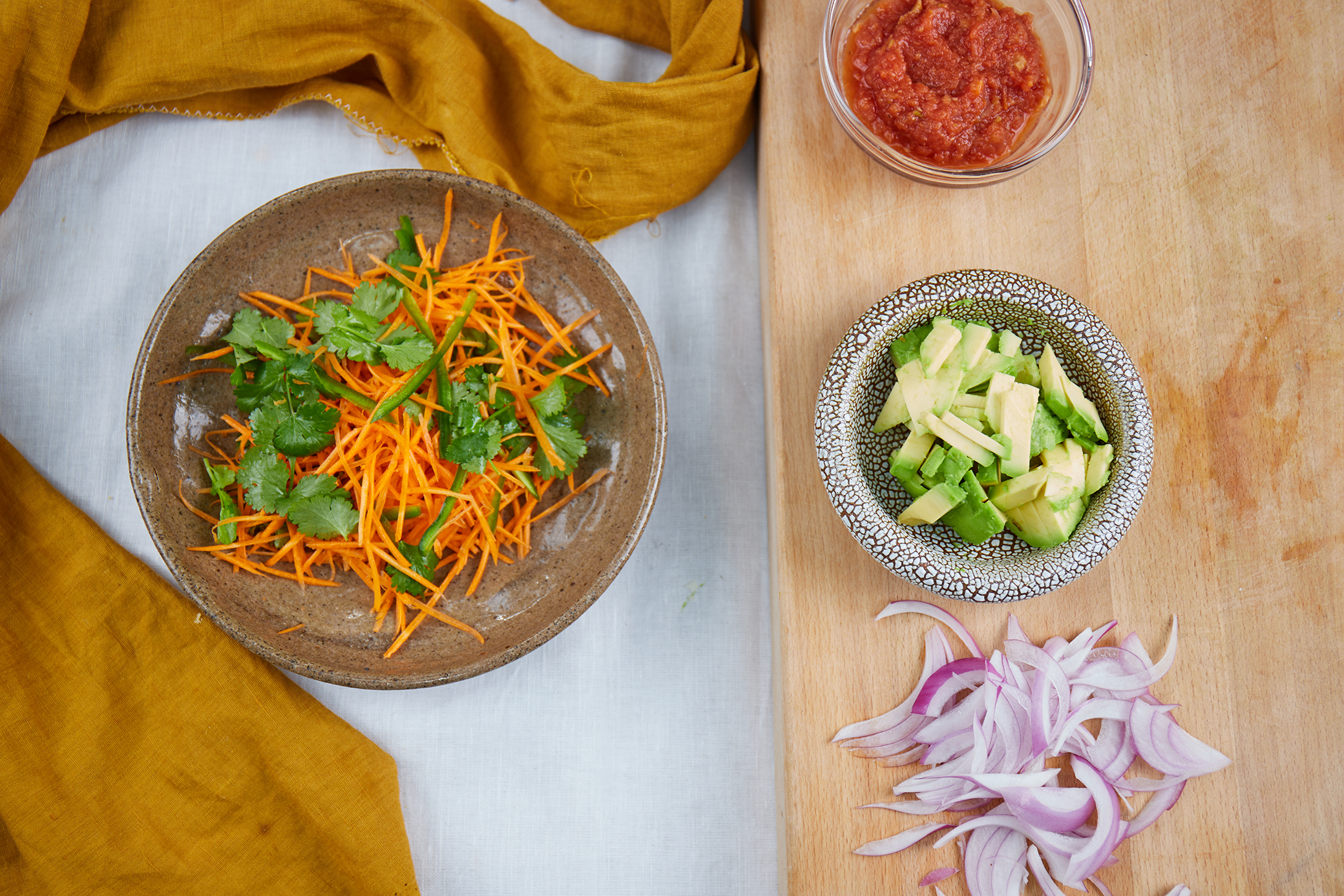 5. Cook the arepas
Heat a splash of oil in a frying pan over medium heat. Working in batches, gently press the arepa balls into 5mm thick discs. Place into the frying pan and cook for 2 minutes on each side. Be gentle when flipping the arepas as they are delicate. Keep warm in a low oven or cover with a tea towel.
6. To serve
Divide the arepas between serving plates. Top with the black beans, carrot slaw, avocado and remaining tomato salsa and onion. Top with a little goats cheese if you have any left over from the vatapa.