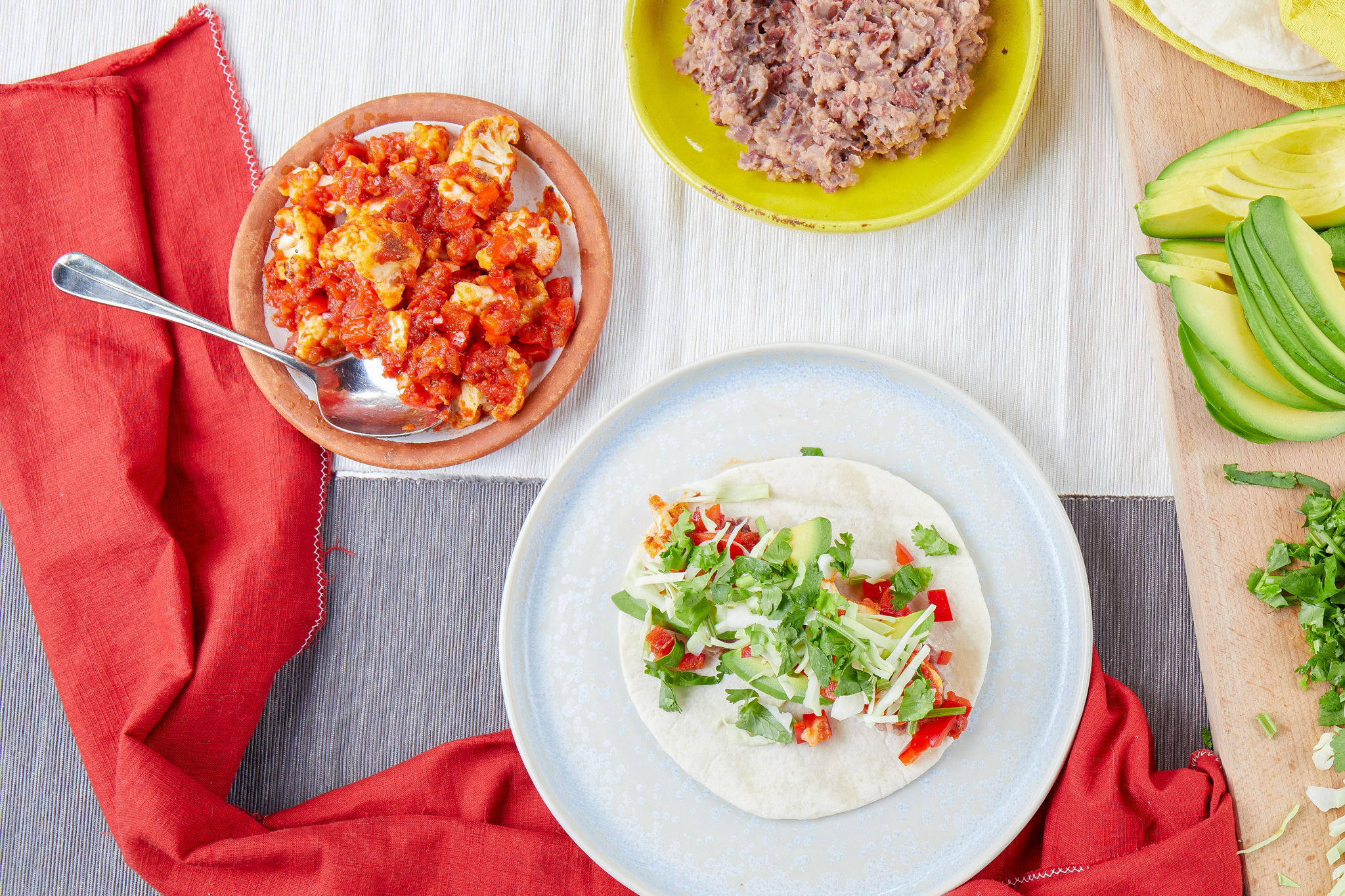 1 kidney beans can
1 taco seasoning sachet
1 tomato polpa can
1x 6 flour tortillas
1 avocado
1 capsicum
1 cauliflower
1 green cabbage bag
1 long red chilli
1 red onion *
1 coriander bunch
This recipe is for 2 servings, please refer to printed recipe cards for 4 and 6 servings or just increase quantities.
Pantry staples: Cooking oil, salt
Allergens: Wheat, gluten, soy, onion, garlic
Chef's note: Chicken tinga is a classic Pueblan dish made with shredded chicken in a sauce made from tomatoes, chilies and sliced onions. It is most often served with tostadas and beans. This is our vegetarian take on the dish.
* Use half the onion provided.
Given the success of our recipe cards, we have decided to change the style of videos to better complement them. Rather than Charlie cooking the entire recipes, he now focuses on the technical and traditional elements of the weekly cuisines. The videos are now shorter, sharper and more informative. Giving you kitchen hacks and skills to ignite your inner chef.
Method:
1. Prepare the ingredients
Wash the vegetables. Finely chop the onion and capsicum. Thinly slice the chilli. Roughly chop the coriander leaves and stems. Halve and remove flesh from the avocado, slice thinly. Shred or thinly slice the cabbage. Drain the beans and reserve the liquid. Cut the cauliflower into bite-sized florets.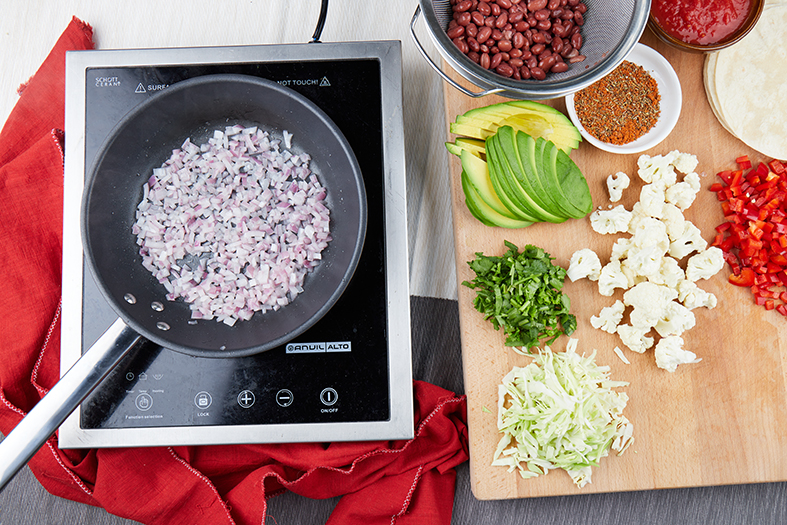 2. Make the refried beans
Heat a splash of cooking oil in a frying pan over medium heat. Cook half of the onion for 5 minutes or until softened.
3. Add the beans
Add the beans and half of the taco seasoning and cook for 2 minutes. Add a spoon of the reserved bean liquid and mash beans using afork. Add more liquid if needed. Season to taste.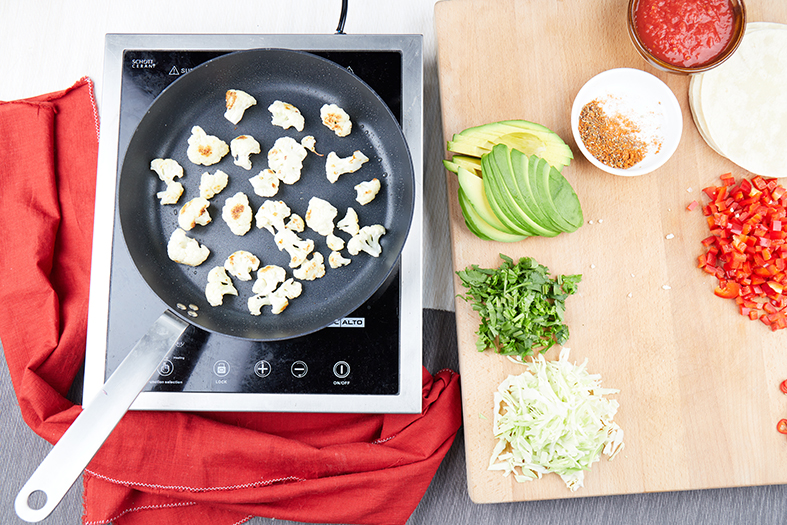 4. Cook the cauliflower
Meanwhile, heat a splash of oil in a frying pan over medium heat. Add the cauliflower and cook for 5 minutes, turning often, until browned all over. Remove from the pan.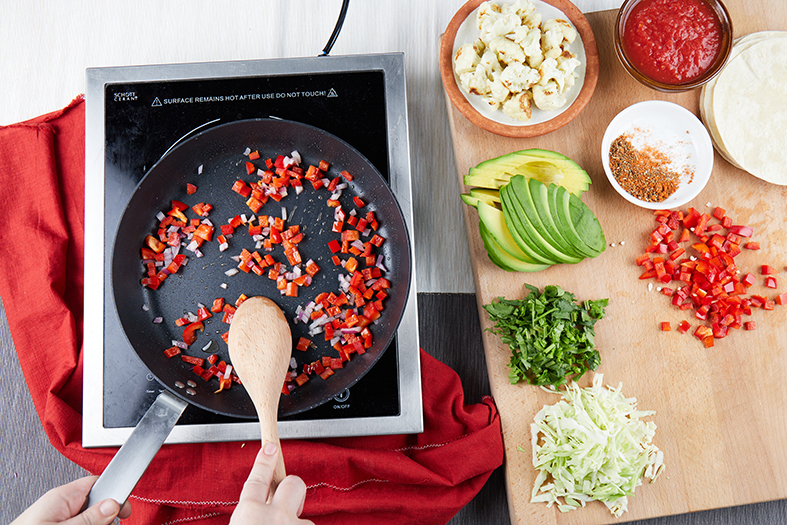 5. Cook the vegetables
In the same frying pan, heat a splash of oil over medium heat. Add the remaining onion and half of the capsicum and cook for 5 minutes.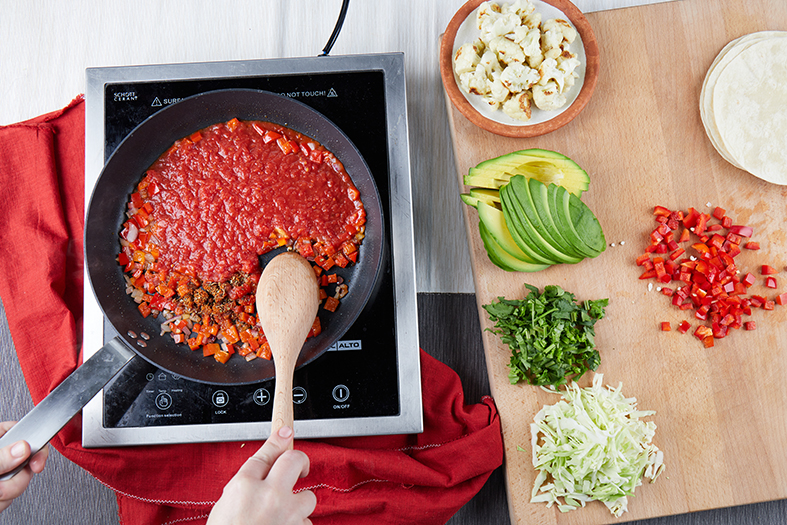 6. Finish cooking the cauliflower tinga
Add the tomato polpa, remaining taco seasoning and chilli to taste. Reduce the heat and simmer for 10 minutes. Stir through the cauliflower before serving.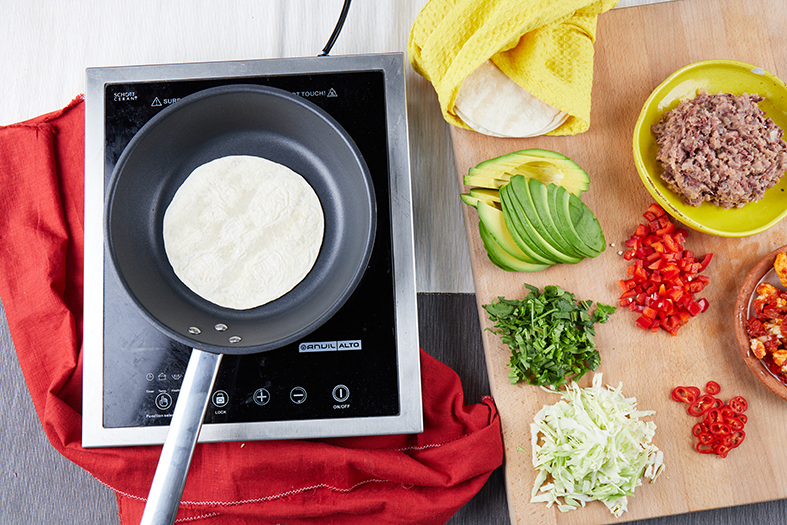 7. Heat the tortillas
Heat and soften the tortillas directly over a gas flame or in a frying pan. Keep warm by wrapping in a tea towel or in a low oven.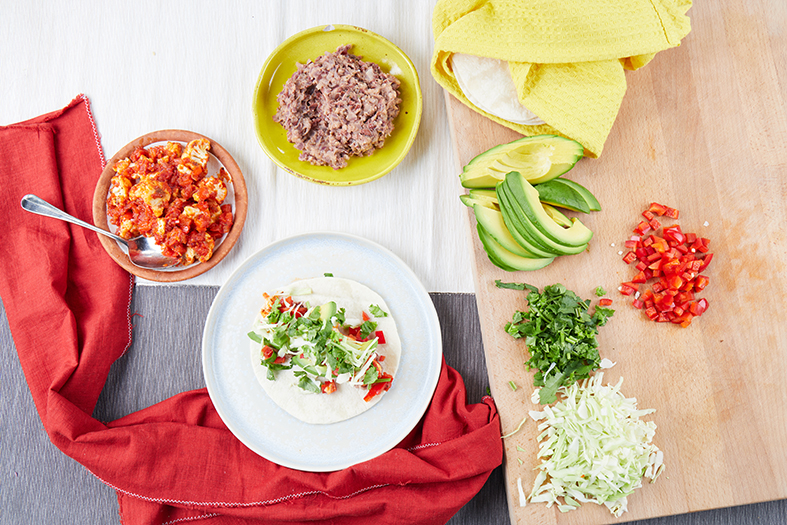 8. To serve
Divide the tortillas between serving plates. Top with the refried beans, cauliflower tinga, cabbage, remaining capsicum, avocado and coriander.